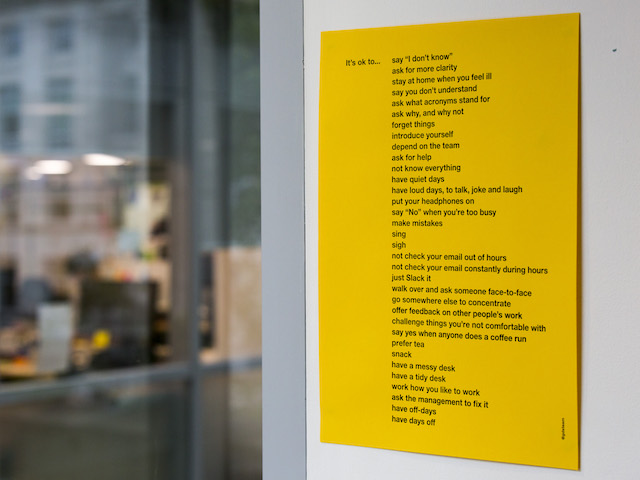 By Jess Bland and Tendai Chetse.
The UK's Government Digital Service found new fame on social media a few months ago. A 2016 poster of theirs was mistakenly identified as Google's office policy. The poster spells out the unofficial rules of their office. They include 'it's ok to say you don't understand', 'ask why and why not', and 'challenge things you're not comfortable with'.
This is refreshing to see written down. There are some sections of the UK Civil Service code that could be misinterpreted in a way that pushes against a healthy climate of debate and diverse perspectives and could be seen as confusing for some:
"You must: provide information and advice, including advice to ministers, on the basis of the evidence, and accurately present the options and facts."
But what about when there isn't really any evidence, but using data and graphs is more comfortable than confronting the unknown?
A futurist's perspective
The future is by its nature is unknown. So the foresight community is used to navigating uncertainty. The community has long discussed the importance of involving multiple voices and types of knowledge about what the future may look like.
The general argument goes like this: if the future is uncertain, evidence from the past is not necessarily going to be evidence for what will happen next. We should explore other ways to understand what the world might be like in ten or more years from now. This way businesses and policymakers and others can be better prepared for the future.
And as it happens, there's an influential paper by the futurist Wendy Schultz that explores what this involves for policy makers.
Start your foresight journey
These are the ideas that SOIF explores as an organisation and during its Strategic Training course. They seem increasingly relevant for the practice of public and private sector leadership. It is not easy to consciously question the usual, comfortable ways of working. This requires courage, effort and time.
---
SOIF's next foresight training course will be running in the spring. If you're a Civil Servant exploring foresight in government, contact Tendai for a participant's insight on the course. Tendai Chetse works at the UK Government Department of Culture, Media and Sport. Jess Bland has recently moved from SOIF, where led our first virtual training courses, to the Centre for the Study of Existential Risk in Cambridge.