Our Managing Director was a keynote speaker at Finnsight 2021, Finland's leading foresight event, and proposed, in effect, 'A Future Agenda for the Practitioner Community to work on'. This addressed the challenges involved in moving from futures to action. These are some extracts from her speech.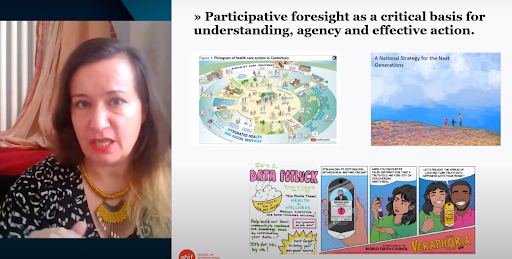 A critical moment for decision making
As foresight practitioners, we design and integrate our work in organizations and institutions for decision-makers to act. This helps build a foresight ecosystem for organizations to better prepare for possible futures.
There is growing interest, opportunity and appetite for applying futures and foresight. Organizations, governments, institutions and corporations know they need to do things differently. But the time is now. The climate emergency is our most pressing problem. At least there is also new thinking going on all around us.
This includes
new economic models, such as Kate Raworth's Doughnut and the connected Doughnut Economics Action Lab, and Mariana Mazzucato's mission-driven innovation;
Policy and government innovation, such as UNGA's Our Common Agenda;
Networked groups seeking to transform complex systems for the better (as in N Square's work in the area of nuclear deproliferation; and
Emerging mainstream ideas about stewardship (see the recent books by Paul Polman, Mark Carney, and Minouche Shafik).
Converting foresight research into action
To take advantage of this moment, we need to be able to scale futures work and translate it into action. One possible way to use foresight for impact is to look at best practices around the world. SOIF's Features of effective systemic foresight in governments around the world, commissioned by the UK Government, explores how eight governments have developed their foresight capabilities. The report helped the UK Government Office for Science to develop a framework for how governments can improve their foresight capacity.
Participation and networks
We also need to build participation—both for better insight and for weaving networks around a common purpose. This brings in diverse voices from around the globe. The Next Generation Foresight Practitioners (NGFP) recognises and enables these voices to democratise futures and foresight.
How do we make sure we are inclusive and can initiate conversations? Our workshop at the Paris Peace Forum, in collaboration with Körber Stiftung, engaged a diverse set of audiences to participate in developing artifacts on the future of global governance of Artificial Intelligence. The National Strategy for the Next Generations (NSxNG) programme explores how nations develop national strategies for the next generations.
Assessing policies against consequences
And third, we need frameworks that policy-makers can use to assess longer-term consequences during the decision process. The Intergenerational Fairness policy assessment tool is based on scenarios and alternative futures. The assessment tool helps understand who is benefiting from a particular policy, and its impact on current and futures generations.
Listen to Cat Tully's complete keynote speech. Visit our website to find out more about our work.