A National Strategy for the Next Generations
We are building a network aligned behind the need to make UK national strategy better. We owe it to the next generations.
National Strategy for the Next Generations
The National Strategy for the Next Generations (NSxNG) programme is a joint initiative of SOIF and our coalition of partners (listed below). The programme explores how nations can develop national strategies that are fit for the next generations.
Our initial focus is on the UK. Following the latest Integrated Review of Security, Defence, Development and Foreign Policy, and in the context of both post-Brexit reorientation and the post-COVID 19 recovery, the UK Government needs to look again at how to 'do' national strategy. Through our 2020 pilot and 2021-2 full programme, we are working to develop and test a new approach that is more participative, future-focused and historically informed; giving the UK's citizens, and next generations in particular, a central role in shaping our country's future place in the world.
We have built a (still-growing) network of those who can align behind this approach. The network's 100+ members work across national security, national strategy, future generations, systems thinking, foresight, technology, participation and deliberation. If you are interested in joining the NSxNG network, or would like to get updates on the NSxNG programme, add your details below.
To learn more about our pilot and its findings, you can read the report (there is also an executive summary) or watch a recording of the launch event. For more information, contact Lewis Lloyd (lewis@soif.org.uk).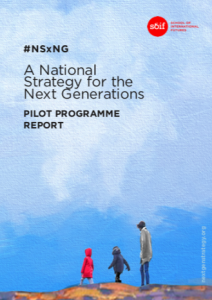 NSxNG Full Report
A full report on the pilot stage of our ongoing NSxNG programme.
Our case
We need a new approach to designing a long-term, outward-facing national strategy for the UK. An approach to our country's future role in the world that actively designs in the needs, wellbeing and interests of future generations. We believe that governments have a responsibility to develop national strategies and national narratives in a way that:
Represents the interests of future generations
Is participative, and supports citizens to have a voice in national futures
Builds a more meaningful, united and plausible national narrative
Draws on past, present and future insights
"We believe we must consider the lessons of history, listen to the diverse voices of the present, imagine the world our grandchildren will inhabit and act as stewards of their future."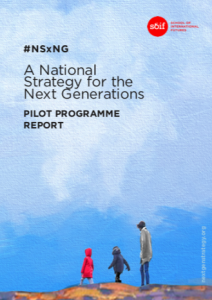 Executive Summary
This document summarises the findings and recommendations of our NSxNG pilot and outlines the path ahead for our full programme in 2021.
The context
The shaping of national strategy (or 'grand strategy') has traditionally been the domain of government elites – top-down and 'behind closed doors'.
But around the world, that is starting to change. The last decade has seen a growing interest in more forward-leaning government administrations (from Wales to Singapore) in giving people a say in the future that their children or grandchildren will inherit.
Citizens are asked their views about the future, both in terms of desired outcomes (visions) and the key trends, challenges and strategic choices the country will face.
Our aim is to bring these approaches to UK national strategy-making. In both our pilot programme – completed in October 2020 – and our forthcoming full programme in 2021, we are exploring the past, present and future context for the UK's global role, as well as the hopes and fears of the 2045 generation, to inform a renewed vision, narrative and policy options for the UK's long-term role in the world.
Read the results of our pilot ('proof of concept' stage) via the Executive Summary and Full Report links on this right-hand side of this page.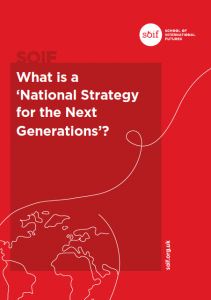 What is a 'National Strategy for the Next Generations'?
Read this document for an overview of what we are trying to achieve with this programme.
Pilot programme (June – October 2020) and what's next
Over June-October 2020, SOIF convened a group of partner organisations to conduct a pilot programme to explore the potential for a new way of making national strategy for the UK. This was our 'proof-of-concept' pilot to test how a different, more participative approach to developing national strategy can be done, and to explore the kind of results, insights and experiences it yields – for Government and for citizens.
Summary of activities: Our focus was on bringing together experts and young people to discuss the UK's future role in the world. Our public participation activities included a Citizens' Assembly test session (led by the Democratic Society), a series of youth workshops (spearheaded by Agora), an online survey and in-depth interviews.
The pilot has caught a wave of interest and appetite to do things differently both across the national strategy community, and from citizens.
We are now disseminating the insights from our pilot with Parliamentarians, interested organisations, and the wider public (in the UK and internationally).
2021 and beyond: The NSxNG coalition will run a full programme over 2021 to model how to put our approach into practice, building on the appetite, methodology and insights from our pilot.
We see the UK Government's Integrated Review as the start of a journey over the next five years to build a National Strategy that reorientates the UK, defines our new 'strategic personality', and improves our resilience and agility.
That journey must be based on citizen engagement (building the 'connective tissue' between Government and public) and exploring the fluid future in a hopeful, exploratory way.
For the UK to go forward boldly as a country, we need cross-generational consensus that provides a clear and legitimate basis for the UK's international role.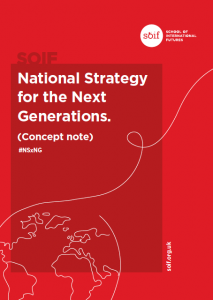 Concept Note
This document sets out the basis for a NSXNG approach to national strategy.
The NSxNG Coalition: our partners
We and our core delivery partners are united by a vision for a more agile, future-focused and participative approach to National Strategy.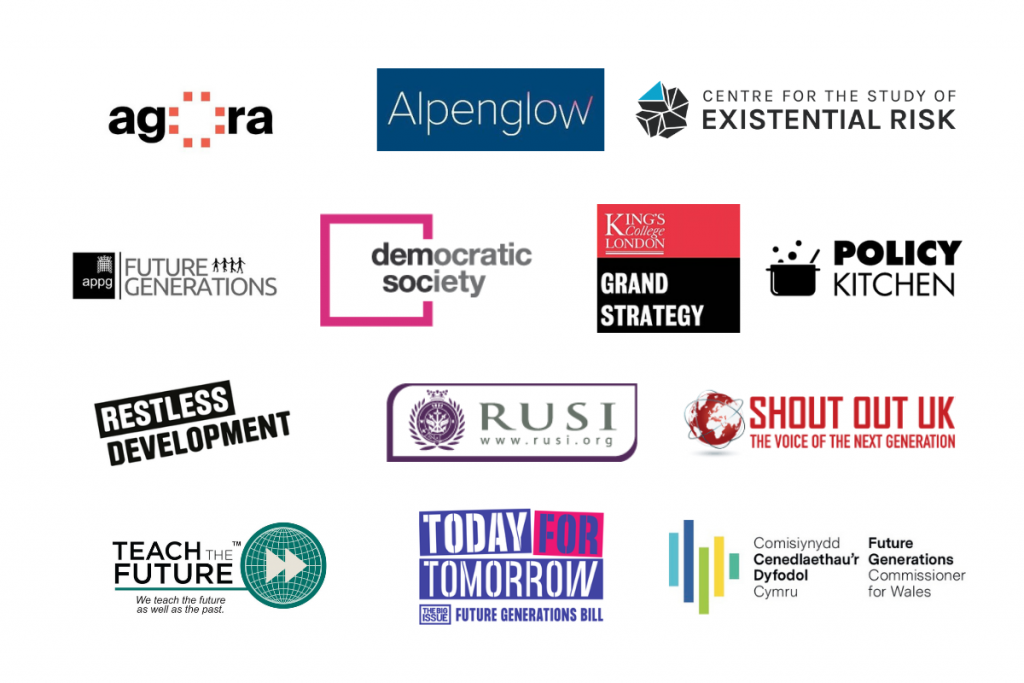 Get in touch