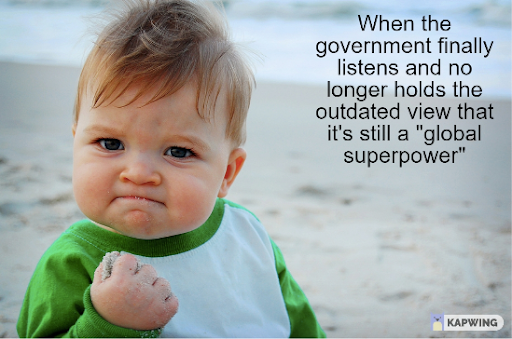 Lewis Lloyd writes: Last month, the UK government published its Integrated Review of Security, Defence, Development and Foreign Policy (IR). SOIF has been trying to influence this Review through our National Strategy for the Next Generations (NSxNG) programme.
As well as a more formal response piece, which we published on the Royal United Services Institute (RUSI) blog, we wanted to give a group of young people the opportunity to voice their opinions, and so we ran a meme workshop. Many of the messages that we'd heard from young people in our NSxNG pilot programme, about how the UK should approach its future role in the world, had made their way into the report.
Memes express opinions
The workshop was facilitated by Christy Casey and Nour Batyne–two Next Generation Foresight Practitioners Award winners who are experts in organising creative, participatory experiences focused on the future. It brought together a group of young people around a discussion of the Integrated Review, developing responses in the form of memes.
Some memes acknowledged the positive aspects of the IR, which reflected many of the messages that we'd heard from young people in our NSxNG pilot programme. The report includes a recognition of the importance of tackling domestic issues to secure the UK's position internationally, a strong emphasis on acting as a force for good around the world, and an eagerness to build on existing UK assets, such as innovation in science and technology. Its tone is also more humble than many expected, emphasising the need for collaboration with other countries to achieve the UK's goals
Look to the future today
The importance of including next generation voices in discussions about national strategy was also a recurring theme. A number of memes emphasised the impact of decisions made now on future generations. There is a gap between the politicians who decide what the future of the country should look like and the young people who will live with the consequences.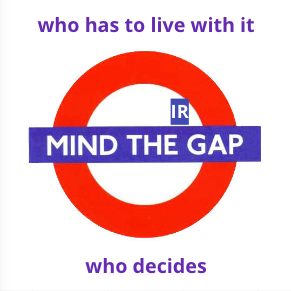 We hope to explore this approach further in future. If you are interested in being involved or have experience to share, or if you want to hear more about the NSxNG programme, please get in touch.