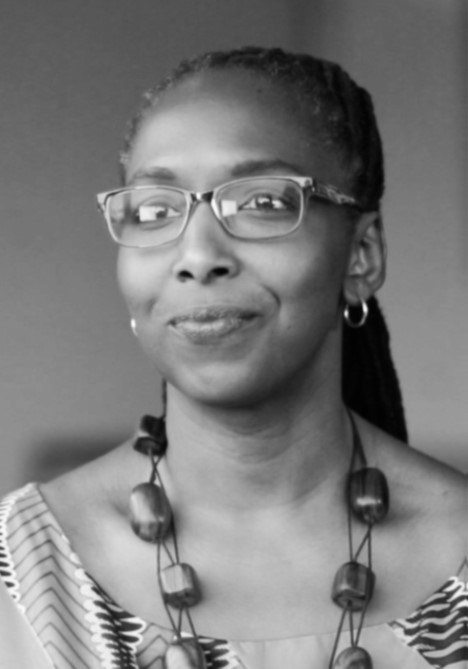 In this interview, we speak with Geci Karuri-Sebina, an expert in futures and foresight. Based in South Africa, with a background in computer science, architecture, sociology, and urban planning, Geci brings a unique perspective to the intersections of people, place, technology and time. She shares insights highlighting the practical application of foresight and emphasises the need for diverse tools, open-mindedness, and inclusivity in using the future.
As a speaker at SOIF's 2023 summer retreat, Geci's insights on decolonial approaches and future literacy will enrich the discussions on technology, cities, and their impact.

Question: Can you share a brief overview of your area of expertise and its relevance to the futures field?
Geci Karuri-Sebina: I have quite a mixed profile, and I like to summarise it by saying that I'm interested in the intersections between people, place, technology and time. I started with computer science and sociology, exploring the social implications of technology. I went on to study architecture, urban planning and evolutionary economics for my double masters and PhD.
I have mainly worked in the public sector, including government, NGOs, and science councils, focusing on public good issues. Currently, I am establishing a new Center for Digital Governance at the University of Witwatersrand's School of Governance. This involves applied research in technology development and governance, as well as future-oriented thinking framed in terms of anticipatory governance. We seek to explore and understand issues of anticipation and preparedness in relation to how ongoing technological change is transforming our societies and impacting our culture and behaviours. This is very much about long-range thinking and orientation.
A lot of my own personal interests, especially in the last couple of years in my futures and foresight practice have been on questions of decolonising and contextualising futures and foresight. This work recognises broader systems of knowledge and anticipation, bringing into consideration for example indigenous and local knowledge systems.
Question: Could you share some insights about foresight's importance and practical application?
Geci Karuri-Sebina: In my foresight journey, I would highlight two powerful moments that shaped my understanding of futures. The first was my engagement to oversee a regional infrastructure planning initiative in Africa. I felt that my education had not prepared me to address the complexity, especially when it involved multiple stakeholders. This despite being formally trained as a planner – which, of course, by definition is a prospective discipline that involves planning forward.

I had to explore and learn about futures and complexity tools and methods, and we used scenario planning to help navigate the multi-dimensional, multi-stakeholder challenges into the future. This experience made me realise that there is a need to think differently and use diverse instruments. So, the insight around this would be that traditional planning tools and theories might not help us in dealing with complex systems and multi-stakeholder situations. We need to transition towards utilising more complexity thinking, systems, and futures tools to engage complex local, regional, and global challenges.
Another insight has to do with appreciating emergence when it comes to the future. I was recently working on a project that aimed to explore youth futures in Africa. While asking what youth perspectives were, the funder was already specifying how education can prepare them for work in the future. That left little room for the desires and dreams of young people in Africa to emerge. We shifted methodology towards a futures literacy exercise, allowing open-ended discussions to unearth what truly matters to young people. We aimed to break free from predefined parameters and embrace emerging concerns. This can be difficult because "experts" and "leaders" often seek to impose what they consider to be predetermined "facts" and their impact on futures. They seek to reduce uncertainty by predicting what they think is important or given.

Experiences such as this have transformed my practice, emphasising the importance of challenging anticipatory assumptions and allowing diverse perspectives. I strive to decolonize futures and expand understanding by thinking outside the boundaries of conventional wisdoms. By embracing uncertainty and involving diverse stakeholders, we allow space for more inclusive and transformative futures to emerge.
Question: In your opinion, what are the key skills or mindsets that individuals and organisations need to cultivate in order to navigate uncertainty and shape a desirable future?
Geci Karuri-Sebina: One should have an appetite for uncertainty when dealing with the future. Instead of trying to predict and eliminate uncertainty, it is crucial to be open-minded and acknowledge that the future cannot be fully predicted. This mindset allows for agility as you develop the ability to recognize signals of change and how new opportunities and pathways can emerge. So balancing the desire to plan with open anticipation is essential. This is what futurist Riel Miller calls "walking on two legs."
A pluralistic mindset is also necessary, understanding that multiple perspectives and truths can coexist simultaneously. Scholar Arturo Escobar has offered what he calls pluriversal principles in this regard. This requires overcoming the inclination towards absolute or singular truths centring our own worldviews, which many of us are acculturated to. It can be very difficult. So, additionally, being participatory in processes and including diverse voices is crucial for meaningful engagement with the future. These prerequisites are important in engaging with uncertainty and evolving meaningful approaches to the future.
Question: What unique insights or perspectives can participants gain from you at the retreat?
Geci Karuri-Sebina: I'm looking forward to attending the retreat this year as a speaker. I look forward to engaging with a diverse gathering of people doing different kinds of work to create a better future.
I'm particularly excited about working with folks in exploring decolonial issues and approaches in a way that invites inclusive perspectives that go beyond generic judgement. "What does it mean for me, and for my own orientation and practice" is a question I hope to get people asking. My own professional and lived experience from the Global South will bring a valuable voice into the discussions, adding perspectives that may often be overlooked in the North. Additionally, my expertise in future literacy, especially from applications in Africa, will contribute to conversations about technology, cities, changing societies, and their impact.
Overall, I'm looking forward to a stimulating and enriching experience, connecting with future-minded individuals who are making a difference in their respective fields. This retreat is an opportunity for us to share, learn and grow through a mutual exchange of valuable insights and perspectives in a beautiful environment. I look forward to it!
The last day to apply for the retreat is 30 June 2023. There are only a few places left. This year's retreat will take place from 24 to 28 July in the UK.