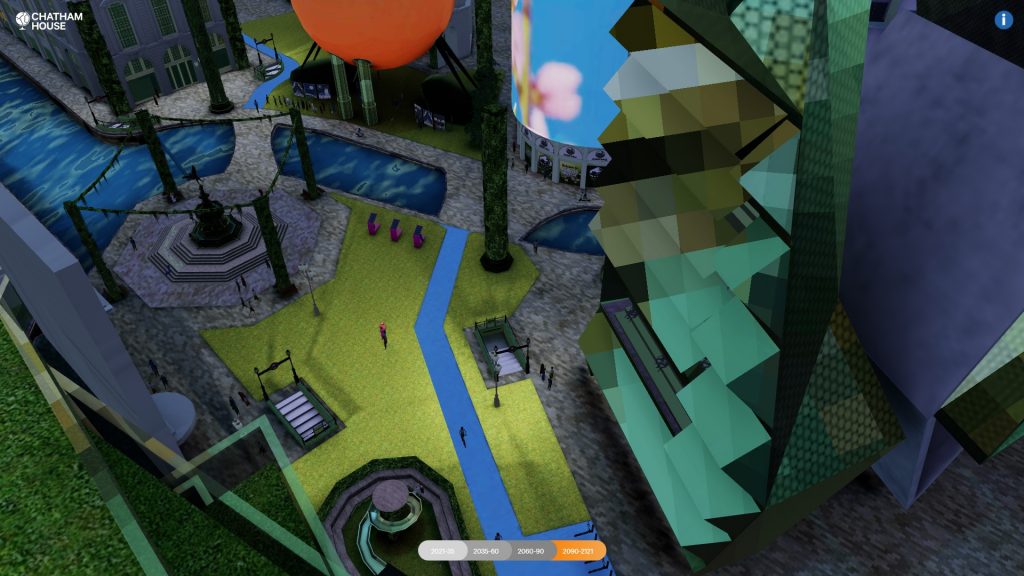 What might London's iconic Piccadilly Circus look like in a hundred years time? The distinguished London think-tank Chatham House, based just round the corner from it, decided to imagine some long-term futures to mark its centenary. SOIF worked with Chatham House to lead the exploratory futures workshops, and the Brighton-based Platform Group built Futurescape London—a dynamic 3D model—to bring the thinking to life.
The workshops were attended by Chatham House staff and interested stakeholders and were led by SOIF's Director of Futures, Andrew Curry, and co-facilitator Elisa Cecilli. To help people make the leap into the further future, the initial workshop adapted a "narrative futures" approach (developed by Emily Spiers of Lancaster's Institute of Social Futures) that encourages future story-telling. It also included images of previous visions for the future of Piccadilly.
Plant-based artworks
The Platform Group's model imagines Piccadilly Circus as it might evolve every thirty years or so until 2021. It pictures the area at different levels, from street to sky, focusing on different details.
Some striking ideas emerged from the ideation work. The area becomes car-free very quickly. There are green walls, and vertical plant-based artworks which also are homes to birdlife. The famous 'Eros' statue, at the heart of today's Piccadilly, might become a fountain incorporating a hydroponic system to grow fresh local vegetables. This is a "back to the future" future, since the original statue was designed as a drinking fountain.
Creating a conversation
At the heart of the project is an ambition to build an achievable and sustainable vision of the future. The model isn't a forecast or a prediction. It is designed to create a conversation about the role of the future city, and examine ways in which urban centres can be transformed.
For example, 'storytelling benches' promote human connectivity in the 2035 Circus. By 2121 buildings are shapeshifting and 'flying skybarge homes,' are the norm. Floating farms to promote zero kilometre products are encouraged.
A positive future for all
It is easy, these days, to construct visions of dismal futures. The approach taken by Futurescape was instead to imagine a world that was responding inventively to the twin challenges of global warming and biodiversity while reducing emissions. The project's leader, Chatham House's MD of research partnerships, Rose Abdollahzadeh, said:
Everything featured in the Futurescape time periods either already exists, or is in development. In that sense, all of it is highly achievable and plausible if society wants to make it happen.
You can view the model for yourself here. If you want to see what the future of Piccadilly Circus looked like in 1961, you can watch a rather breathless Pathe newsreel on YouTube. Or if you want to find out more about 100-year futures, please get in touch with Andrew Curry.