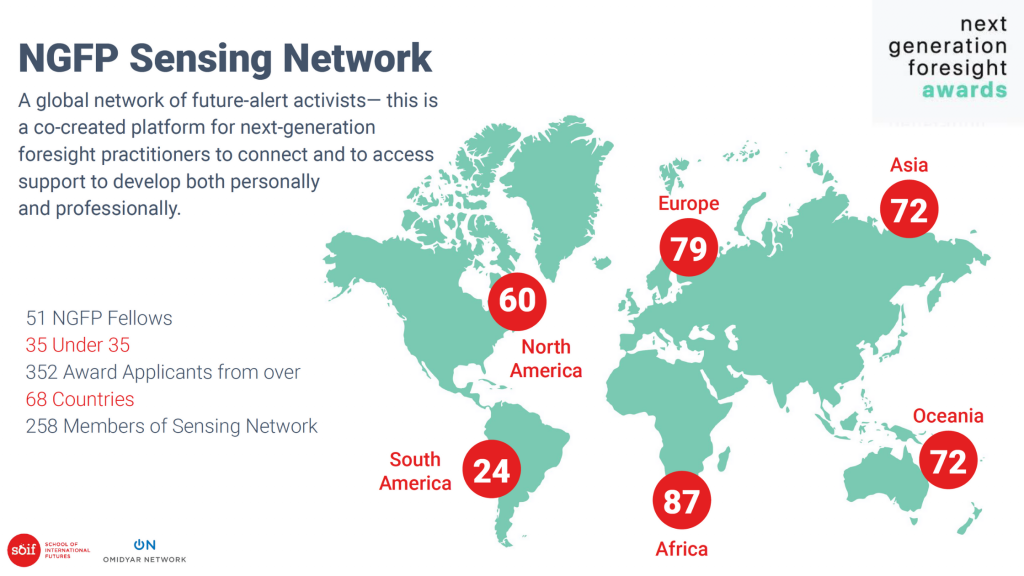 Last week we were invited to share insights about a post-pandemic world by the Omidyar Network. Hosted by their Exploration & Future Sensing (ExFS) team, this virtual session had a two-fold objective. One, to inspire more expansive imaginations of post-COVID futures by presenting the Futures Manifesto from the voices of Next Generation Foresight Practitioners (NGFP), and two, to introduce NGFP and SOIF to a wider group of "Futures Sensors" and other interested people at The Omidyar Group, and beyond, especially with an eye towards partnership and consultative opportunities for NGFP network. Having expressed that reading the Futures Manifesto was a "welcome jolt", the audience — representative of some of the leading philanthropic organizations such as Omidyar Network, Omidyar Group, Luminate, Democracy Fund, Humanity United, Mastercard Foundation, and Gates Foundation, focused on the following overarching goals for our interaction during this event:
Identifying possible investment blind spots and opportunities for impact by engaging with diverse future perspectives across generations and borders.
Learning how collaborating with a global network of younger future sensors expands our horizons and fights myopia.
The compelling presentation of the Futures Manifesto by NGFP fellows was greatly appreciated and the audience valued the nuanced regional as well as global perspectives brought forth in the discussion about "hidden wonders" from the various stories in the Manifesto. These key insights presented during the session covered a diverse range of emerging issues and trends that must be addressed in thinking about local and global futures after the pandemic. From exploring new ways of living, working, to fundamental shifts in models of governance and education, the 'hidden wonders' provided the audience a quick yet rich snapshot of emergent futures in communities across the world. The discussion about "Flux Generation" of young people born and living in a world of heightened disruption and upheaval, particularly resonated with the audience.
In addition discussing futures-facing themes and issues, a part of the session was spent on introducing the NGFP network and the upcoming projects and initiatives that are in the pipeline to the audience. With a core group of 51 fellows and a group of 258 members, the NGFP network today represents over 68 countries worldwide. This network was set up in 2018 with an ambition to democratise foresight practice by identifying emerging change-makers and give a platform to new perspectives on the future in order to challenge and disrupt dominant thinking in the field. We see the NGFP network as a sum greater than its parts and in the coming years, we will continue to build the capacity for this diverse network to work collectively.
During this session we learned that foundations working towards supporting better futures globally are grappling with issues such as the challenge of doing futures work in partnership with local communities (especially in the global south), unequal access to technology, and insufficient and low-quality insights on weak signals of change shaping futures at a regional level. It, therefore, became quickly clear that the NGFP network — envisioned as a platform for decision-makers and organizations to engage with pockets of innovative practice and gain insights on emerging issues, has tremendous potential to address these challenges and add value to the ongoing efforts of the foundations.
We believe that when it comes to thinking about post-pandemic futures, supporting bottom-up agenda setting is critical. We see this introductory session, being first in more to come, as a way to share the vision and potential of the network with a room full of potential allies, champions, and collaborators. The session left all of us new insights and food for thought, and we look forward to nurturing these seeds further in the coming months.