Biography
His Excellency Talal Al Rahbi has spent most of his working life in public service, starting his career at Oman's elected lower house of parliament (A'Shura Council), before returning to the US to complete his MBA in Public Policy and Management at University of Oregon. Earlier he earned his Bachelor degree in Economics from the University of Louisiana. After completing his MBA studies, Talal worked and gained valuable experience at the local government level in Lane County (Oregon, USA) in 2003.
In February of 2013, Talal was appointed by Royal Decree as Deputy Secretary General to the Supreme Council for Planning – a cabinet council chaired by His Majesty the Sultan of Oman – that shapes Oman's economic, social and spatial planning and manages the government's capital budgets. Talal was decorated by HM Sultan Qaboos with the Civil Order of Oman in 2015. Also he was honored the Outstanding Alumni Award from the University of Oregon in 2017 for his accomplishments in his career life.
In 2016, Talal managed the inception of a five year program for national economic diversification, under the banner "Tanfeedh", or "implementation". Based on Malaysia's "Big Fast Results" methodology, the project brought together stakeholders from the public, private, academic and voluntary sectors to create accelerated change in priority economic areas. These intensive working groups have created over 120 initiatives with the aim of creating over $38 billion in total investments over the four years (2017 – 2020). The Methodology of "Tanfeedh" has been adopted by the government, particularly in focusing on a number of key sectors.
Among many board and representative positions, Talal currently serves as Chairman of a new Oman Technology Fund, Chairman of Madinat Al Irfan Development Company, Deputy Chairman of the Public Authority for SME Development, and board member of Public Authority for Water, Public Authority for Craft Industries, and chairman of Oman Vision 2040 technical committee. He also served as First Deputy Chairman of the UNESCO Institute for Statistics (2010-2013).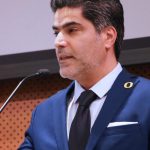 Deputy Secretary General to the Supreme Council for Planning, Oman