Biography
With over 41 years of international experience, Rosemarie Forsythe has worked as a scholar, diplomat, U.S. policymaker, business executive and professional artist in the former Soviet Union, Europe, the Middle East, and Asia. 
From 1997-2013, Ms. Forsythe was ExxonMobil Corporation's Director, International Political Strategy and advised the CEO and Management Committee on devising long and short-term business strategies for the company's complex network of businesses around the world in more than 80 countries.  Early on in her tenure at the company, she proposed a new government relations framework for the Corporation to deal with political challenges arising from a fundamentally new exploration and production profile, which involved many more politically volatile countries.  This involved analysis of the political profile of EM's production and exploration targets, creating new training programs, finding new personnel, identifying key challenges and opportunities, and formulating new kinds of approaches and strategies towards different kinds of governments.  For more than a decade, she produced an annual global trends analysis looking out for 20+ years and helped formulate a long-term company strategy for dealing with those trends.
In addition to her global responsibilities, Ms. Forsythe also worked on special projects focused on particular regions.  For example, from 2005-2006, Ms. Forsythe served in a special assignment as Vice President, ExxonMobil Russia, Inc. while also fulfilling her global responsibilities.  Before the merger of Exxon and Mobil, Ms. Forsythe was the Mobil Corporation's Vice President for Government Relations Eurasia from 1997-99.  In that capacity, she covered the countries of the former Soviet Union, Turkey, and Iran.  
Prior to her career in the oil and gas business, Ms. Forsythe was a US diplomat and policymaker for over 15 years.  From 1995-1997, Ms. Forsythe was the U.S. liaison to the European Parliament in Brussels and Strasbourg and covered EU enlargement issues.  From 1993–95, Ms. Forsythe served as Director for Russian, Ukrainian and Eurasian Affairs at the National Security Council of the White House and directly advised the President and Vice President of the United States.  In that position, she helped formulate and manage complex U.S. policies toward the post-Soviet states.  In addition, she created and headed in 1993 the first USG interagency groups on the newly independent states in Central Asia and the Caucasus and on Caspian energy issues.  During that time, she was involved in the successful negotiation of the 1994 Nagorno-Karabakh ceasefire, which lasted more than two and a half decades before its recent deterioration; the denuclearization of Kazakhstan, Belarus and Ukraine; and the successful government negotiations leading to complex pipeline agreements for the Baku-Ceyhan and Baku-Supsa pipelines in the Caspian region.
Ms. Forsythe served as a U.S. diplomat in the Soviet Union, several post-Soviet states, Europe, Asia, and at the U.S. State Department in Washington, D.C.  During a 1989-91 assignment in the USSR, she was the principal contact with Soviet Republic Presidents during the breakup of the Soviet Union.  Ms. Forsythe also served as a Soviet affairs analyst at the Rand Corporation, the U.S. Department of State's Bureau for Intelligence and Research, and the Foreign Demographic Analysis Division of the U.S. government.  
Before her careers in foreign policy and business, Ms. Forsythe was a dealer in 19th century American Art for several private collectors and museums from 1974–1984.  For the past decade, she has resumed her interest in the arts and is currently a professional painter, creating works reminiscent of byzantine icons or 15th century illuminated manuscripts.  Her acrylic and gold leaf paintings feature math/science equations, symbols and ornaments and often celebrate ideas that changed the world.  In 2020, 2021, and 2023, the U.S. Department of State's Art in Embassies Program selected several of Rosemarie's artworks for exhibitions in US Embassies in Austria, the Philippines, Jordan and Bolivia.  Her art was also featured in the NATO offices of then Deputy Secretary General Rose Gottemoeller.  Rosemarie is a member of the Advisory Board, and the Director's Circle of the National Museum of Women in the Arts. She is a juried member of the Reston Art Gallery and has been in dozens of solo and group exhibitions around the world. 
Ms. Forsythe holds academic degrees from the University of California at Los Angeles (MA and PhD work), Columbia University (MA), and Indiana University (BA) in Political Science and Soviet Area Studies.  She currently serves on the Advisory Boards of the School of International Futures and the Center for Non-Proliferation Studies.  She has also served on numerous non-profit boards throughout her career, including the Atlantic Council, the Center for Strategic and Budgetary Assessments, the Dallas World Affairs Council, the Dallas Committee on Foreign Relations, among others.  She is a member of the Council on Foreign Relations.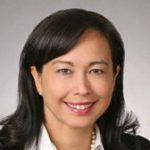 Former Director, International Political Strategy at ExxonMobil and Former White House National Security Council Director for Russian, Ukrainian and Eurasian Affairs