Biography
Jigmi Y. Thinley is the first democratically elected Prime Minister of Bhutan (2008–2013). Earlier he was a government secretary and a regional governor who later served as his country's ambassador to the UN in NY and in Geneva. He was also accredited ambassador to the EU and several European countries before becoming Foreign Minister.
Thinley is a well-known speaker on various topics at major international fora and universities. He is the foremost advocate of Gross National Happiness (GNH), a development philosophy that has guided Bhutan's transformation process since the early '70s. Under his leadership as Prime Minister, Bhutan took active part in the ongoing international discourse on the need to adopt a holistic, inclusive and sustainable development paradigm. He convened a 'High Level Meeting' at the UN HQs in New York on 'Wellbeing and Happiness: Defining a New Economic Paradigm' in April 2012. He also chaired several meetings of the International Experts Group that submitted a report to the UN SG in support of the preparations for the Rio Summit and the adoption of the SDGs.
During his term as PM and Chairman of Bhutan's National Environment Commission, his country pledged to remain forever carbon neutral at COP 15 in Copenhagen. He was an active participant in the South Asian Regional Association and has served as its chair. Among the many other initiatives taken by his government was the hosting of a "Climate Summit for a Living Himalayas" in 2011.
Thinley is an Alumni Fellow and Presidential Counselor of the Pennsylvania State University and received honorary doctorates from the Kalinga Institute of Technology University (India) and Universite` Catholique de Louvain, Belgium. He has received many awards including his country's highest civilian decoration. He is a member of the World Leadership Alliance – Club de Madrid and Asian Peace and Reconciliation Council.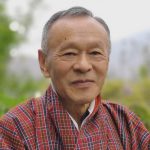 Prime Minister of Bhutan (2008–2013) and advocate of Gross National Happiness