Biography
Andrew Curry is a Director of The Futures Company in London, where he leads on futures practice and is Managing Editor of the company's thought leadership series, Future Perspectives.
He is a leading member of the UK's futurist community. As a consultant he has worked on dozens of scenarios and scanning projects for clients in the private, public and third sector, using a wide variety of techniques. His clients have included the UK government's Foresight Programme (see, for example, Intelligent Infrastructure Systems or Powering Our Lives)  and the UK Environment Agency, where a set of 50-year scenarios informed the Agency's 50 year water strategy. He was also the lead author of the UK Cabinet Office report, Understanding Best Practice In Strategic Futures. Other scenarios projects include ones on economic development, regulation, and sustainability.
He has published extensively on futures subjects, including – with Wendy Schultz – "Roads Less Travelled", on the strengths and weaknesses of comparative scenarios methods and – with Anthony Hodgson – the first academic paper on the Three Horizons method. He also edited, for the Association of Professional Futurists, their tenth anniversary essay collection, The Future of Futures.
His Futures Company report, The 21st Century Business (co-authored with Jules Peck), won the 2015 WPP Atticus thought leadership award in the Strategy Category, while his earlier report, Unlocking New Sources of Growth, won the Atticus Grand Prix in 2013. His Foresight paper, "Africa 2010-2020: Poverty Beyond The Global Crisis" (2012, co-written with Joe Ballantyne and Andy Sumner), was Highly Commended by Emerald editors.
He is the Vice Chair of the Association of Professional Futurists. Before joining The Henley Centre in 1999 (which later became part of The Futures Company) he worked as a financial journalist for the BBC and Channel 4 News, as a television producer, and in interactive media.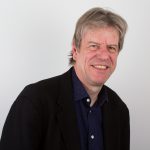 Director