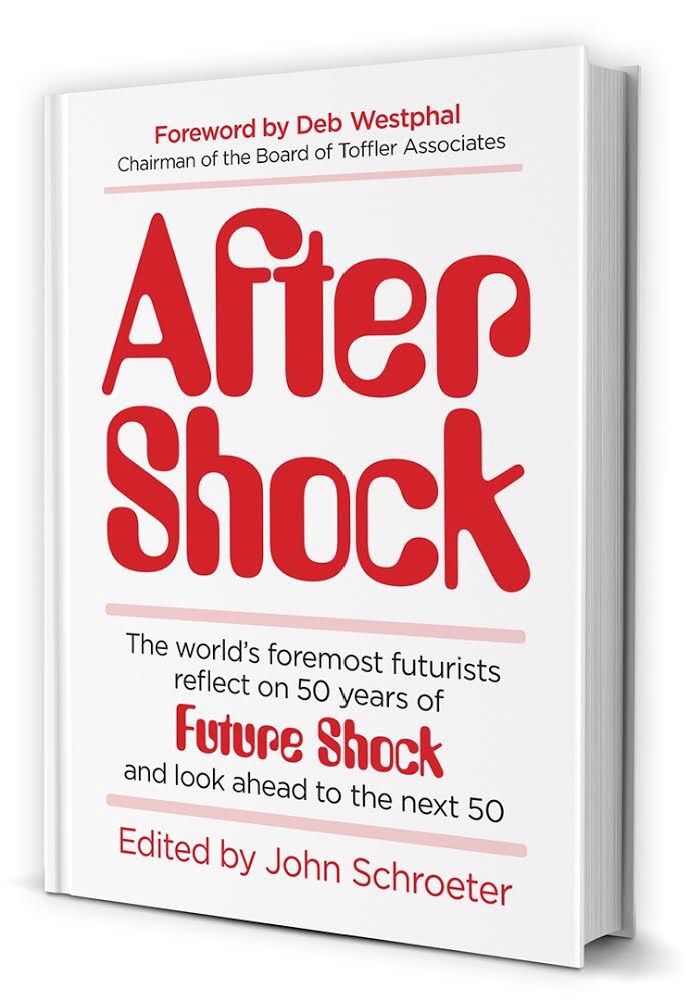 Andrew Curry writes: Future Shock is one of the iconic titles in the history of futures and foresight. It was written by Alvin Toffler, with much help from his wife Heidi, and was published in 1970. Along with Herman Kahn's book The World in 2000, it was the title that propelled the idea of futures into the mainstream.
To mark its 50th anniversary, the publisher John Schroeter has assembled a huge collection of articles into a book. After Shock reflects on the continuing influence of Toffler's book. A number of SOIF alumni are in here. Our Managing Director Cat Tully has a piece, I have contributed something, Paul Saffo, on our Advisory Board, has written an article, along with design futurist and NGFP award winner Maggie Greyson.
We're in good company. Ray Kurzweil is also here, along with the former British Astronomer Royal Martin Rees and the economist Hazel Henderson, and a raft of leading futurists.
Global classic
In her foreword, the long-standing CEO of Toffler Associates, Deb Westphal, writes of the 50th anniversary:
"The milestone is an opportunity to celebrate the influence of this global classic. It is a good time to reflect on why people still read and debate the ideas in the book, even as the world has changed in so many fundamental ways. … [The Tofflers] challenged conventional thinking and called us all to look more closely at the connections being made across vast topics and issues, encouraging us to truly understand change and its impact.
Podcasting
I took part in a discussion about the book on the Seeking Delphi podcast, chaired by Mark Sackler. Jerome Glenn was the other panellist–sadly Cindy Frewen dropped out at the last minute because of a family emergency. There's a YouTube recording of that online, with a podcast version to follow shortly.
And if you're in Toronto next Thursday (20th February), Maggie Greyson is holding an early evening "futures and food event in a quaint vintage pub" (as described on the flyer). There will be a reading from her piece and the opportunity to see recent design futures work by another NGFP Fellow, Leah Zaidi.