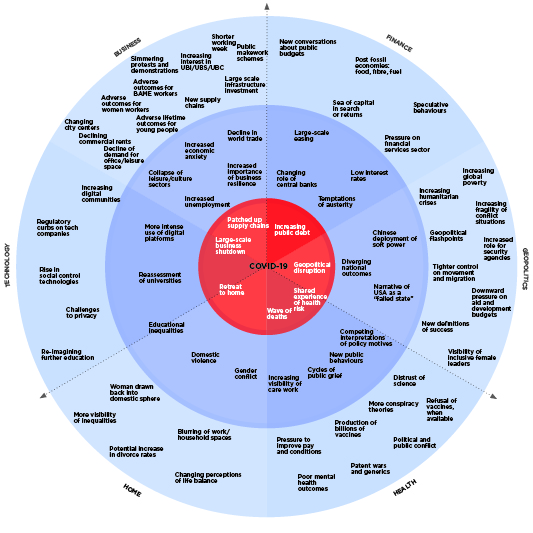 The starting point for our report on the long pandemic was an observation in a report by the Collective Psychology Project (now part of Larger Us). It said that the health crisis would last a couple of years, the economic crisis five years or a decade, and the psychological crisis a generation.
We used a futures wheel to look at how the current factors would play out, and this leads to six themes, on business, finance, technology, home, health, and geopolitics.
Post-pandemic headlines
Here's a summary of the headline conclusions:
The people most likely to do worst in the post-pandemic labour market — women, BAME workers, and young people — are also groups which have been most politicised in recent years. There is likely to be a strong political reaction.
The leading economies have been on life support provided by the central banks since the financial crisis. This is likely to continue for another decade. Last time around it fuelled inequality. This time it may have to be designed with better social outcomes in mind.
The regulatory pressure on big tech is unlikely to go away. Expect to see them embrace regulatory 'solutions' that they can manage but which disadvantage smaller competitors.
The psychological effects of the pandemic could last a generation. Such effects are partly a response to shared grief, but they are also broader. The effects of social isolation, family conflict, economic anxiety and the realisation that life is less certain may also live with children and young people for decades.
The pandemic has accelerated the transition to a multi-polar world, but in ways that may be profoundly destabilising. This in turn means that the response to the worsening humanitarian crises that follow the pandemic will be more uneven. On the upside, the pandemic has also showcased the benefits of more inclusive societies.
You can read the report here, as a pdf.