As Culture, Team and Values Manager, Toyin functions as SOIF's guide ambassador for organisational culture and values, ensuring they are visible, embedded and upheld. She manages an effective human resources function to support the management of the employee lifecycle; and contributes to broader organisational and strategic management.
She has 14+ years of successful experience in building dedicated, diverse teams to achieve far-reaching business goals. Passionate human resources expert with a proven history of overseeing cross-functional teams and business operations in a competitive environment. She excels at people management, employee engagement, change management, and strategic planning. 
She is the co-author of a book (Chip off the Old Block) and a passionate drama enthusiast who enjoys creative writing as a hobby. When she is not managing people and processes, she spends her time on teens, youth, premarital and marital counselling.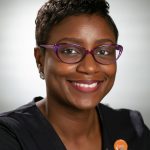 Culture, Team and Values Manager