Tom is the founder and Principal at research, strategy and consulting firm Liminal Minds Limited, which supports governments, and non-profit and philanthropic organisations in their work on a range of global security issues. He has most recently worked with SOIF as Principal on a project examining the future of serious and organised crime over the next two decades.
Until January 2022, he was Director of RUSI's Proliferation and Nuclear Policy programme, and Director of the UK Project on Nuclear Issues. Prior to joining RUSI in June 2017, he was responsible for technical oversight of arms control verification research programmes at the UK Atomic Weapons Establishment, including collaborations and exchanges with counterparts in China, Norway, Sweden, and the US. He also worked at the UK Ministry of Defence and Foreign and Commonwealth Office on a range of non- and counter-proliferation issues, particularly in relation to North Korea and Iran, as well as on the UK nuclear weapons programme.
His current research interests include the ethics of nuclear weapons, future technology and complexity, and game design for research and education. Tom is available to mentor emerging scholars and professionals in defence and security, particularly those from less-advantaged backgrounds.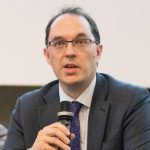 Principal