As a Researcher and Facilitator at the School of International Futures (SOIF), Iman Bashir works on foresight research efforts, supports advisory projects, and facilitates training workshops. With her interdisciplinary background in law and environmental science, she brings a unique perspective to her work, underlining the interconnectedness of social, economic, and environmental factors in envisioning the future. 
Iman's work at SOIF is wide-ranging, from designing and delivering futures projects to analysing trends and conducting focused research on key topics. A key highlight of her work includes working on a project aimed at exploring inclusive futures for emerging technologies in Africa, where the team developed tools for stakeholder engagement and facilitated foresight workshops. 
Previously, as a UNICEF Youth Foresight Fellow, Iman co-designed a youth foresight research project and employed innovative methods to identify emerging issues that impact young people. Her commitment to inclusivity was particularly demonstrated in her dedication to providing safe, conducive, and accountable conditions for youth engagement by policy makers and intergovernmental institutions. 
Iman's work extends beyond her role at SOIF. She is an active member of the Next Generation Foresight Practitioners (NGFP) network, and she leads the NGFP Climate Hub. This initiative brought together professionals in the climate and energy space who incorporate foresight into their work. Among her notable accomplishments was the organization of the Youth Climate and Energy Futures Lab at COP27 which marked one of the first foresight sessions at the UNFCCC negotiations process. 
Before transitioning to futures and foresight work, Iman made significant contributions to social justice and environmental issues in the legal sector. She worked as a Legal Officer at Crevit Mulier & Co, where she conceptualised and researched a project aimed at empowering youth with green jobs in Kenya, which earned her the Green Income Award 2021 and led to a pitch for an eco-hub syllabus to the Ministry of Youth and ICT.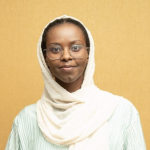 Researcher, and Facilitator