Ellen joined the School of International Futures as a project manager and researcher in June 2017. She has worked on the inter-generational fairness project project with Fundacao Gulbenkian and projects with the Royal Society, Health Foundation, among others.
She spent ten years at PwC delivering risk-based internal audit services for local government clients, developing its internal audit methodology, and rolling out a comprehensive training programme for 6,000 partners and staff. A volunteering holiday in 2012 led to a change of career direction, and after gaining a year of conservation experience she completed a MSc in Conservation Science at Imperial College London.
Ellen has contributed to both a UNEP report assessing the state of biodiversity in Latin America and the Caribbean, and the 2016 WWF Living Planet Report. During the 2017 UK election 2017 she co-ordinated an audit of the general election manifestos of the main parties for the UK chapter of Academics Stand Against Poverty.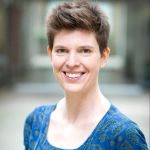 Project Manager and Researcher
English