As Technical Lead for SOIF's Intergenerational Fairness (IGF) Practice, Ellen designed our IGF Assessment Tool to assess whether public policies can be considered intergenerationally fair. She has over 15 years of experience in audit and methodology development and is fascinated by the challenge of how to meaningfully audit the seemingly inaudible.
Her project highlights at SOIF include Future Check — she adapted the IGF assessment tool to allow groups of volunteers to explore the long-term impacts of proposed UK legislation — and the development of a social mobility assessment tool, which she successfully piloted with policy teams across the UK civil service. Ellen has also worked as a project manager and researcher with clients at SOIF, including California 100, the UK's Royal Society and the Health Foundation. 
Ellen is a fellow of the Institute of Chartered Accountants in England and Wales. She has an MMath in Mathematics and an MSc in Conservation Science from Imperial College London. For her MSc thesis, she proposed a methodology for assessing progress against the Convention on Biological Diversity's Aichi Target 14 on safeguarding ecosystem services. Ellen started her career working in internal audit at PwC. As a senior manager, she had a key role in developing PwC's UK and global internal audit methodologies and training packages.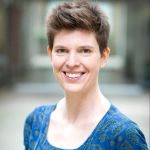 Intergenerational Fairness Specialist
English