Dawson is a firm believer in the pursuit of social justice. His focus is on working with policy and decision-makers who have the ability to make the greatest positive impact to those who are the most vulnerable.Dawson believes in equal opportunity and access for all.
Prior to joining SOIF in April 2022, Dawson studied and practiced as a forestry infrastructure engineer in Vancouver, Canada. During his tenure in academia and industry, he ceaselessly donated his time to various non-profit social impact organisations, deepening his pursuit of social justice. Dawson occupied several leadership positions within Engineers Without Borders Canada, the most notable of these being an agriculture research lead in Zambia and leading a national team to lobby the Canadian government to improve international development spending and targets. The latter resulted in the establishment of Canada's first Development Finance Institute and allocation of approximately $800 million to be invested in high-risk ventures in the Global South. Dawson has also been instrumental in delivering SDG implementation advisory reports to the Government of Canada.
While completing his MSc Environment and Development at the University of Edinburgh, Dawson co-founded and managed a pro-bono environmental consultancy, Six Degrees Edinburgh (SDE). He created the organisation as a way to provide opportunities for university students to gain practical expertise and make positive global impact during their studies. This work was recognized during an award ceremony in which SDE received the Edinburgh Social Responsibility and Sustainability Changemaker Award.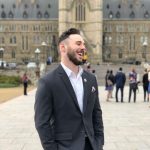 Project Manager