As the Learning & Foresight Capability Building lead, Daniel develops and supports the NGFP Sensing Network futures and foresight learning journey. His responsibilities include developing training programmes, peer-to-peer learning, and a repository of the network's collective futures and foresight learnings.
Since joining in 2020, Daniel has worn many hats at SOIF. He was previously the operational manager, where he oversaw the doubling of the SOIF team. At SOIF, Daniel has been involved with foresight projects at SOIF with organisations in agriculture, finance, and children's rights advocacy. His work has included conducting research to create foresight toolkits and designing foresight training engagements.
Daniel is an award-winning futurist recognised by the Association of Professional Futurists, where he was an Emerging Fellow on the Global South and the Future of Prosperity. A highlight of his work includes Towards a Personalised Gastronomy 2050 report with the Basque Culinary Center and Our Futures report and participatory futures game with Nesta.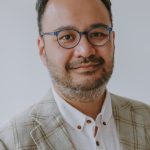 Operations Manager