Investing in the next generation
Next generation foresight practitioners
Launched in 2018 by the School of International Futures, the Next Generation Foresight Practitioners (NGFP) is a network of almost 600 people from all over the world who are using futures and foresight to create positive impact and systemic transformation globally.
NGFP members come from various geographies, areas of expertise, and walks of life – from working with food systems in India to developing new technologies in Kenya to reshaping the future of elections in the US to redesigning interspecies friendly cities in Germany. What they all have in common are exceptional projects and ideas with the potential to shape the future of communities, countries, and sectors. Find out who our fellows are and learn more about the projects they are working on.
Through SOIF's expertise of doing foresight with impact, its connections with the broader futures and foresight field, and the support of the NGFP team, we offer our members a nurturing environment and enabling conditions for their projects and ideas to flourish and expand their positive impact in the world. This includes providing:
foresight capacity building
mentorship
funding
safe spaces for collaboration with peers
participation in relevant events around the world
visibility in the media, and
meaningful connections with decision-makers at the highest levels.
Our ultimate objective is to democratise the futures and foresight field, so we have diverse voices from younger generations participating equally in the co-creation of better, fairer, and more equitable futures for all.
Applications for the 2023 NGFP Fellowship are now open!
Every year we invite a diverse group of young professionals who have just begun to explore the futures and foresight field to apply to our NGFP Fellowship journey. We are particularly enthusiastic about applications from those living in the Global South, and those working on the world's most complex issues, or Global Challenges, as we like to call them. Find out more here.
The Futures Manifesto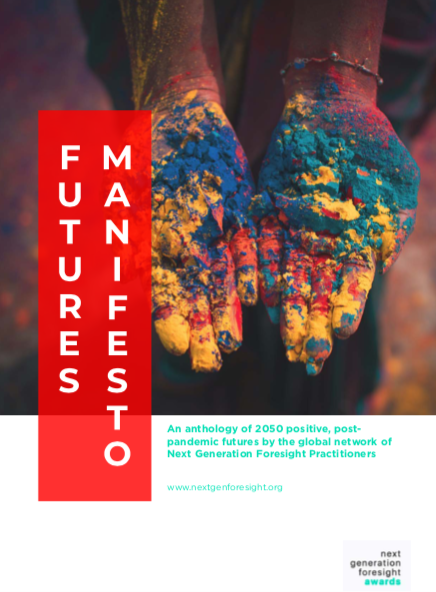 A growing network
We are weaving a self-supporting global network of young futures thinkers. For more information contact sarah@soif.org.uk