Karen West has worked for more than 20 years as a learning and development professional, project director and OD specialist. She brings deep experience in the development of individual senior leaders and leadership teams from her work in public services across the globe and more recently, with archbishops and bishops of the Church of England.
As a 'trainer of trainers' Karen's role at SOIF has focused on ensuring that learning programmes are designed and facilitated to the highest professional standards and on the ILM accreditation for the Retreat programme. She is the Quality Manager of our ILM scheme.
Karen has worked in 40 different countries around the world. As a former Director of the Civil Service College's/National School of Government's Women's Leadership and Management Development suite of programmes, and in recent work to equip the Church of England's first women bishops, she also has a particular interest in strategies for talent development and improving equal opportunities.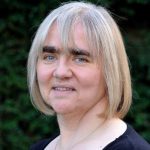 Pedagogy and ILM Quality Manager