Damilola (Fash) Fasoranti
Damilola is the NGFP Coordinator and Community Weaver at SOIF.
He has over 9 years of experience as a Social Entrepreneur, Community Connector and Educator, being at the center of connecting citizens with the private and public institutions.
He is a Creative Writer and a Certified Catalyst Coach, leveraging on his gifts to help communities uncover their wisdom and resource, then mobilize these to create action for a sustainable future for all. He is the Chief Listener at Prikkle Academy where he co-creates 'chaos' in the Educational system, by creating 'schools without teachers' and decentralizing learning and solutions.
He is the award recipient of the 2018 Talent of the Future Award (Ideation Hub, Lagos), OD 2018 Challenge Runners-up Winner and World Top 100 Social Entrepreneurs (Social Enablers, India).
He is a Fellow at Global People's Fellowship, Canvassity Pan-African Youth Fellowship, African Changemakers Fellowship, Dalai Lama Fellows, Social Innovators Program of LEAP Africa and Leadership Fellowship. He sits as an Advisory Board at Inspire Africa and Voluculture, Kenya.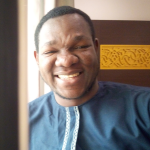 NGFP Coordinator and Community Weaver