Becky joieds SOIF as Practice Manager overseeing the Next Generation Foresight Practitioners practice. Becky has over 15 years of experience in business operations, project management, delivery & implementation, client relations, customer experience, team training & development, events, marketing and PR, working across various sectors from small businesses, social enterprises, charities, not-for-profits to start-ups. She believes all businesses can be a force for good.
While living in London, Becky was General Manager at Catalyst for Good Causes, managing and advising on the development and growth of numerous new prize-led fundraising initiatives for charity clients including Blesma, Combat Stress, RAF Benevolent Fund and The Gorilla Organisation. Becky was also contracted as Project Manager for The Pangea Trust to set up The Pangea Trust as a new charity organisation. More recently Becky has been Accessibility Champion for B-Corp certified agency Hoxby, working to create an accessible remote work culture.
Becky volunteers as Community Manager for the local Sofia & Bansko chapter of Girl Gone International, a global community that aims to foster a sense of belonging both locally and globally. Becky is also a virtual Climate Collage facilitator leading interactive, online climate education workshops.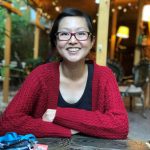 NGFP Practice Manager